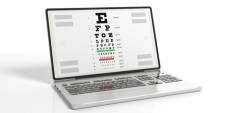 There are a few sites on the web now offering online eye examinations. We, and many of our colleagues, have seen grossly inaccurate spectacle and contact lens prescriptions obtained using this technology. In addition, there is no assessment of ocular health, so potential problems like glaucoma, macular degeneration, intra-ocular tumors, and retinal detachments – to name just a few – WILL NOT BE DETECTED in an online exam.
Mansfield Vision Center highly recommends seeing an eye doctor in-person both to determine the best prescription for glasses and contact lenses as well as to perform a complete evaluation of ocular health. Contact lenses need to be evaluated not just for power/prescription but also to be sure they fit properly and the cornea remains healthy.
Problems with online eyeglasses purchases seem to be fewer, but we have some notes and recommendations:
1. Like almost anything else, you get what you pay for when it comes to quality of the frame and lenses.
2. Check their warranty information, including on scratches/breakage, as to what happens if the doctor needs to adjust the prescription, or if it is determined they manufactured the lenses incorrectly (for example, lenses were not made to the proper prescription).
3. Have the doctor obtain your pupillary distance ("PD"). This is an important measurement because if it is inaccurate there could be prism induced into the prescription, which can cause significant eyestrain or even occasional double vision. We do not recommend you try to obtain this measurement yourself or online.
4. Bifocals are more problematic, especially the progressives or "no-lines." With the lined bifocal, placement of the bifocal (much like the PD) needs to determined in-person and will vary according to frame selection. With a no-line, there are several measurements that are critical or the design simply will not work. Again the measurements vary person-to-person and frame-to frame. Improperly-set progressives can cause blur at all ranges; cheap progressive technology can significantly blur and restrict your peripheral vision and have very narrow reading areas in the lower lens. We do not recommend purchasing progressive lenses online, and recommend caution with a lined bifocal. Single vision lenses (assuming a proper PD measurement) carry a much lower risk of frustration.
As for contact lenses, we freely admit you can get the exact same product online that we get, ONCE ALL PARAMETERS (brand, type of plastic, base curve, diameter, and power) HAVE BEEN DETERMINED BY A DOCTOR AND A VALID (non-expired) CONTACT LENS PRESCRIPTION HAS BEEN DETERMINED. Contact lenses that do not fit properly can cause severe infection and permanent loss of vision – your eye doctors are trained to make sure the lens fits in a way and you are properly educated on how you can wear them to be sure that does not happen. Remember a contact lens is a medical device and no one is supposed to sell them to you without a prescription. Part of the process involved in determining the prescription must involve an in-person evaluation of the lenses on your eye!
Mansfield Vision Center strives to make our pricing on contact lenses as competitive as possible with online and other retailers. In some cases they can beat us by a few dollars, in others we can beat them. We encourage patients to price compare; we just don't want patients wearing lenses a doctor has not personally evaluated on their eyes.
Share This Story, Choose Your Platform!
About the Author: Dr. Kyle Cooke