The United States is definitely a sports-crazy country. Over 50 million American men, women, and children participate in sports that may pose a serious threat to their eyes.
Did you know that 40% of all eye injuries between the ages of 11 and 14 are sports-related?
Or that of the estimated 100,000 eye injuries per year in this country, 90% were preventable with the proper protective eyewear?
Many athletes (and pseudo-athletes) have been reluctant to wear protective eyewear in the past due to both comfort and style issues. However, today's protective eyewear is more comfortable than ever before, and most of the new styles are quite fashionable.
Prevent Blindness America strongly recommends that all athletes involved in high or medium risk sports not wear regular street eyewear,  but rather proper protective eyewear.  High-risk sports were defined as boxing, martial arts, wrestling, and full contact sports.  Medium-risk sports were defined as sports that involve the use of a bat or stick, body contact, or a combination, such as baseball, basketball, football, lacrosse, hockey, racquetball, tennis, badminton, squash, and soccer.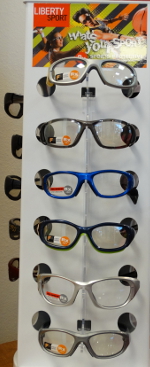 Mansfield Vision Center carries a large selection of styles in Protective Glasses Frames for all sports
Regular eyewear does not have as sturdy a frame or lenses of sufficient impact-resistance. If regular eyewear is crushed (or the lenses broken), lens shards or mangled metal from the frame can enter the eye, actually causing more damage than if the athlete were not wearing glasses.  There is a common misconception that regular glasses provide sufficient eye protection in sports. That may be true if we're talking about a Ping-Pong ball, but certainly isn't true if we're talking about a line drive on the baseball diamond, a slap-shot hockey puck, or an elbow to the face under the basket!
The good news is that you can help prevent your child (or yourself) from being sidelined because of a serious eye injury. You can make the decision to help protect the eyes by adding protective sports goggles to your equipment bag.  Remember, while protective sports eyewear can provide significant protection, they cannot guarantee to be unbreakable or guard against all foreseeable impacts.
A quality pair of Rec Specs® equipped with 3 mm thick poly-carbonate lenses to meet sport safety standards can be sight savers since they help keep the eyes and surrounding ocular region protected.  The sports vision specialists at Mansfield Vision Center are armed with Rec Specs®, the most advanced line of prescription and non-prescription protective sports eyewear, to meet the needs of your up-and-coming superstar!