Maui Jim is an American-based manufacturer of luxury sunglasses that were originally launched in Maui, Hawaii. The brand was launched in the mainland United States in 1988, and the company is now based in Peoria, Illinois.  All Maui Jim sunglasses feature 100% UV protection and lenses featuring their PolarizedPlus2 technology. The lenses are very high optical-quality that eliminate 99.9% of glare and boost the appearance of colors. Their lenses are also treated with an anti-reflective coating as well as a CLEARSHELL scratch resistant coating.  The polarizing film eliminates reflected glare from any flat, smooth, or shiny surface (like water, snow, windshields, dashboards and the like). This maximizes the amount of usable light that reaches the eye, so it can see detail and interpret color with maximum impact.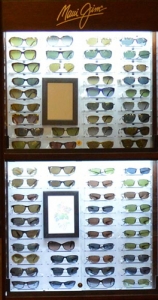 Our selection of Maui Jim Designer frames changes every month.
Maui Jim also offers two gradient coatings. The Bi-Gradient Mirror adds protection against glare and UV radiation from above and below, while the MauiGradient features a darker coating at the top that gradually gets lighter moving down the lens. This allows an appropriate amount of light to filter through certain areas, while less in places where protection is paramount.
Their line of sunglasses are available in prescription for many of their frames, and in Maui Jim Readers. The Readers have no distance correction on the top and bifocals at the bottom, for the over-forty sunglass wearer. They are ideal for contact-lens wearers who need readers over the contacts, or those over forty with perfect distance vision. Come in and check them out!
Oakley, Inc. is based in Foothills Ranch, California and is perhaps the most well-known manufacturer of sunglasses and sports visors in the United States.  In addition, the company also manufactures ski and snowboard goggles, watches, apparel, backpacks, shoes, and other accessories.  Oakley has been awarded more than 575 patents and 100 trademarks, and offers products to consumers in over 100 countries.
The company was started by James Jannard in 1975 out of his garage with an initial investment of $300. The name "Oakley" came from Jannard's dog. Initially Jannard created a patented material for use as motorcycle grips which was dubbed "Unobtainium." The material was unlike any other grip available at the time and became very popular in the motocross community. The material is still used to make the earsocks for Oakley sunglasses and many of the nose pieces.
In 1980 Jannard released the O-Frame goggles, which featured the Oakley logo on the strap. The brand became increasingly well-known throughout the sports industry, and in 1983 Oakley began producing ski goggles. The first Oakley sunglasses were Factory Pilot Eyeshades, a sport-oriented design, followed soon after by the Oakley Frogskin which was a more casual style. The company went public in 1995.
Oakley is the undisputed leader in performance eyewear, and continues to advance sport technology and redefine the lifestyle market with patented optical innovations. Their polarized lenses have seven exclusive technologies:
1. High Definition Optics (HDO) – a collection of technologies that include patented innovations for unbeatable optical clarity and performance
2. Axis of Polarization – this refers to the orientation of the polarizing filter, which is critical for performance
3. Infusion Molding – the lens material bonds to the polarizing filter at the molecular level to eliminate haze and distortion
4. Lens Colors – you can choose from a spectrum of optional lens tints
5. Polarized Emission – Oakley polarization efficiency exceeds 99%, a performance level unsurpassed in the industry
6. Impact Resistance – all impact resistance standards of the American National Standards Institute are met
7. Hydrophobic Technology – Oakley Hydrophobic technology helps keep vision clear and sharp by preventing water buildup and repelling oils and contaminants
Oakley offers a comprehensive line of ophthalmic and sunglass frames available in prescription. Their prescription lenses are offered in a full spectrum of colors, polarization options and performance coatings.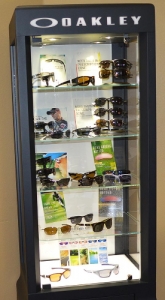 Our selection of Oakley Designer frames changes every month.

Ray-Ban is most famous for its Aviator and Wayfarer sunglasses. In the 1920s, as airplanes were beginning to allow people to fly higher and farther, many US Army pilots were reporting extreme glare from the sun at high altitudes. In 1929 US Army Air Corps Lieutenant General John MacCready asked Bausch & Lomb to create army pilot sunglasses to deal with the problem. A prototype was created in 1936 with plastic frames and green lenses, and a metal frame was added the following year. It was re-branded as the "Ray-Ban Aviator," and patented by Bausch & Lomb in 1937. The Aviator became a well-known style of sunglasses when General Douglas MacArthur landed in the Philippines in World War II, and he was widely photographed wearing them.
The Wayfarer was created in the mid-1950s. Taking advantage of new plastic molding technology, Wayfarers marked the beginning of an era of plastic eyewear. One of its first Hollywood appearances was in James Dean's Rebel Without a Cause. It can not be understated the effect Hollywood can have on the sunglass industry – Wayfarer's early success was certainly aided by famous people being photographed in them, such as Marilyn Monroe, Bob Marley, Roy Orbison, and President John F. Kennedy. In particular, Ray-Ban has seen huge increases in sales following the release of two movies starring Tom Cruise: Top Gun (Aviators) and Risky Business (Wayfarers).
Of course, Ray-Ban offers MANY other styles besides those two, but the Aviator and Wayfarer were two of the cultural icons of the 20th Century, and are by far the most well-known of the Ray-Ban line.
Ray-Ban's B-15 XLT lenses are brown in color, block 100% of UV rays and allow only 15% of visible light to pass through. They offer more contrast by cutting down on the amount of blue light. The G-15 XLT lenses have the same properties, but are green/gray in appearance. They have a lower contrast than the B-15 XLT, allowing for the color and brightness of objects to be softer and more natural.
Lenses are available in polarized and gradient. Polarized lenses are loved by fishermen and skiers, as they reduce glare and reflected light from shiny surfaces. Gradient lenses are darker at the top, while lightening toward the bottom. More than half of the Ray-Ban frames are available in prescription.
At Mansfield Vision Center, we are proud to offer these three lines of American-made sun wear. However, we can make you a pair of sunglasses (polarized or not) in any frame we carry. We also have sunglasses in several of our regular eyewear lines, including Coach, Michael Kors, and Prada.
Sources: Wikipedia.org (Maui Jim, Oakley, Ray-Ban), Oakley.com, and MauiJim.com