Welcome To Mansfield Vision Center!
Optometrists & eye care specialists
8:30 -1:00 &  2:00 – 5:30
We are committed to your total satisfaction. We enjoy the best reputation for superior service and affordable eyewear.
We allow plenty of time to see each patient so your exam is thorough and not rushed.
The Votes are in... Mansfield Vision Center Wins... AGAIN!!

We have been, once again, voted Living Magazine's Best Optometrist in Arlington and Mansfield in 2021.
We have previously won in 2015, 2017, 2019, and 2020.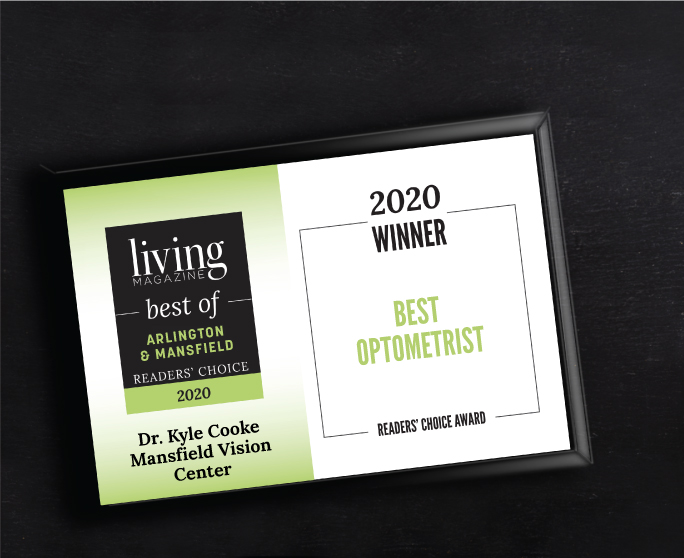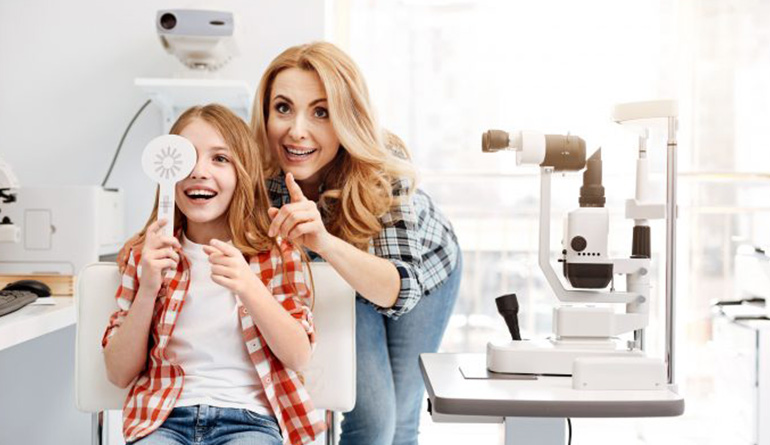 Optometrists & Eye Care Specialists
Locally owned and operated by Dr. Kyle Cooke, O.D., we provide the highest quality of eye care, eye wear, and contact lenses for our patients.
We serve the Mansfield, Arlington, Crowley, Forest Hill, Kennedale, Rendon, Midlothian, Burleson, and Grand Prairie areas.
Our waiting/show room is comfortable and inviting.
The staff at Mansfield Vision Center is top notch and Dr. Kyle Cooke is the best optometrist I have ever had! I cannot say enough good things about this place. I highly recommend it for all your vision needs.
My family and I have been patients of Mansfield Vision Center since it's opening. We have received excellent care from Dr. Cooke and his staff. They are knowledgeable, efficient, and caring.
I would recommend MVC to anyone. Dr. Cooke is great. He takes his time to explain everything and provide a thorough evaluation. The staff is so pleasant and helpful. They make my annual exam fun.
I've been going to MVC since 2008 and because they have done a terrific job on my eye care, I have never desired to try anywhere else. I have in the past went to franchise places known for years, but MVC has done an excellent job for my vision needs.
I have been coming to Mansfield Vision Center for years. I have always received excellent care from Dr. Cooke and excellent service from everyone there.
My family have been a patient's of Doctor Cooke's for several years and have always had excellent service. Dr. Cooke and the staff at Mansfield Vision are on top of their game. Courteous, helpful, ready, willing and able to make sure our sight is a priority.
I would like to say Thank you to Marissa Acosta and Mansfield Vision Center! I felt very welcomed by the receptionist when I walked in. Marissa is very knowledgeable and helpful on what's covered by your insurance. Her positive and cheerful self.
When my family moved to Mansfield Texas in 2004, I started looking for a vision doctor. After searching a long time I settled for 2 vision centers and Dr. Cooke's was one of them. So I observed the staff interactions with patients. Ms. Joan was kind, helpful.
Drs. Cooke and Martin have set a high standard for good service to eye-care patients. In my several occasions visiting MVC for service, I have been very pleased with their professionalism, easy-going personalities, accuracy and thoroughness. The support staff provides smooth handling of every appointment, accommodating the needs of the patient as much as possible. Thanks MVC !
Excellent total client experience. Very warm and efficient employees who are obviously happy with their jobs, indicative of good ownership selection and treatment. In addition, my observation of the waiting room's clients reflected their happiness to be return clients.
I have been coming to Mansfield Vision Center for 10 years. They have great customer service, a friendly staff, and always get me in and out quickly.
I've worn corrective lenses since I was a small child and have dry eyes due to Lasik, medications, allergies and occasional ocular rosacea. Dr. Cooke and the staff at Mansfield Vision Center have provided me with excellent care and customer service.
I have nothing but great things to say about Dr. Cooke and his entire staff. Dr. Cooke is a very good doctor and his staff are true professionals.
It's a pleasure to come to see Dr. Cooke and his staff of friendly people. I feel confident that they know the business and can relate to everybody who walks through their doors.
I was fortunate enough to have found Dr. Cooke when we first moved to Mansfield 7 years ago. He and his staff are wonderful and very good at what they do. I have always felt that my eyes and my vision have been in good hands! The entire staff is very friendly and very professional. I recommend Mansfield Vision Center to anyone looking for a place for your whole family!
My husband and I have been coming to Mansfield Vision Center for several years and we have been very pleased with the service that we have received. The staff is always friendly and helpful and appointments are always on time which I appreciate. I would recommend my family and friends to come to Mansfield Vision Center if they want good service. The doctors take the time to explain your services and always make you feel like you are a priority. Great customer service.
Our family loves Mansfield Vision Center. We've been coming here for over ten years, and every visit has been wonderful. The doctors and staff are so warm and personable, and they treat us like family. We are MVC customers for life.
Initially I chose Mansfield Vision Center simply because they were in my insurance network and convenient. Dr. Vaughn and his staff performed a more thorough exam than I had previously been given. In the process, Dr. Vaughn diagnosed a retina problem that had not been discovered by my previous doctors.
I have been a patient of Dr. Cooke and the Mansfield Vision Center since it opened. Dr. Cooke is one of the best eye doctors= one of the nicest and most considerate men you would ever want to know. His staff is always happy and pleasant to help in any way they can. I have and will continue to recommend them to my friends and clients.
The doctor (Dr. Martin) was very good with my 9 year old. She said he was very funny and spoke directly to her during the appointment. I like that he engages the child and then leaves time for questions from the parent.
Our clinic has the latest state-of-the-art, optical equipment and our doctors and our opticians are continually completing training courses on the newest techniques and procedures for optimal vision care. We even have special equipment which can take digital images of your retina each time you have an eye exam. This provides a history of the health of your eye and serves as an invaluable diagnostic aid.