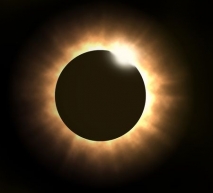 Given the vast numbers of Americans able to view the solar eclipse, this eye safety message is critical, and AOA is helping lead that charge. Partnering with the American Astronomical Society (AAS), NASA and others, AOA is helping push this awareness with safe viewing tips.
Here are four ways to safely view a solar eclipse:
1. Use approved solar eclipse viewers. The only safe way to view a partially eclipsed sun is through special-purpose solar filters, such as "eclipse glasses" or viewers that meet international standard ISO 12312-2 for safe viewing. Sunglasses, smoked glass, unfiltered telescopes or magnifiers, and polarizing filters are unsafe. If you can't find eclipse viewers, build a pinhole projector to watch the eclipse.
2. Technique of the pros. Before looking at the sun, cover your eyes with the eclipse viewers while standing still. Glance at the sun, turn away and then remove your filter. Do not remove the filter while looking at the sun.
3. Totality awesome. Only within the path of totality-and once the moon completely blocks the sun-can eclipse viewers safely be removed to view totality. Once the sun begins reappearing, however, viewers must be replaced.
4. Visit your doctor of optometry. If you should experience discomfort or vision problems following the eclipse, visit your local doctor of optometry for a comprehensive eye examination.
Source: American Optometric Association, ver batim
Share This Story, Choose Your Platform!
About the Author: Dr. Kyle Cooke